Rotary explores solutions to the root causes of conflict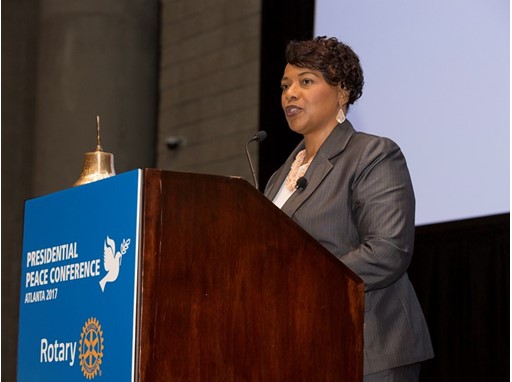 Dr. Bernice A. King and Amina J. Mohammed to keynote Rotary Presidential Peace Conference (June 9-10)
Public health issues can serve as both a consequence and a cause of conflict. The economic impact of violence containment to the world economy in 2012 was estimated to be $9.46 trillion or 11 percent of Gross World Product (GWP).
Solutions to these and many other contributing factors to conflict will be explored by Rotary members, alumni and students of Rotary's
Peace Centers Program
during Rotary's
Presidential Peace Conference
, June 9-10 at the Georgia World Congress Center's Thomas Murphy Ballroom.
"Fundamental to all human interactions and engagement is respect," said King. "When it is lacking, it leads to turmoil, tension and conflict. The pathway to peace therefore requires a respect for the personhood, experiences and needs of all people."
Mohammed has striven to protect the environment and promote sustainable development through several positions in the Nigerian government, and has worked with former UN Secretary-General Ban Ki-moon, the Bill & Melinda Gates Foundation, the African Women's Millennium Initiative, Girl Effect, the 2016 African Union reform team, and the Right to Education Project.
"Peace doesn't get built in congresses or parliaments. And it doesn't get built by armies, or presidents, or even in the United Nations building in New York," said John F. Germ, President of Rotary. "It gets built by people who care, and are willing to work for the things they care about. Things like sustainable economic growth. Human rights. Clean water and air. Sanitation, literacy, and health."
During the opening session, former U.S. President Jimmy Carter will welcome participants in a video message. Since 1982, the Atlanta-based Carter Center has been seeking to prevent and resolve conflicts, enhance freedom and democracy, and improve health.
CONTACTS
Chanele Williams

United States

chanele.williams@rotary.org

8478663466