Rotary hosts panel on drinking water safety in Chicago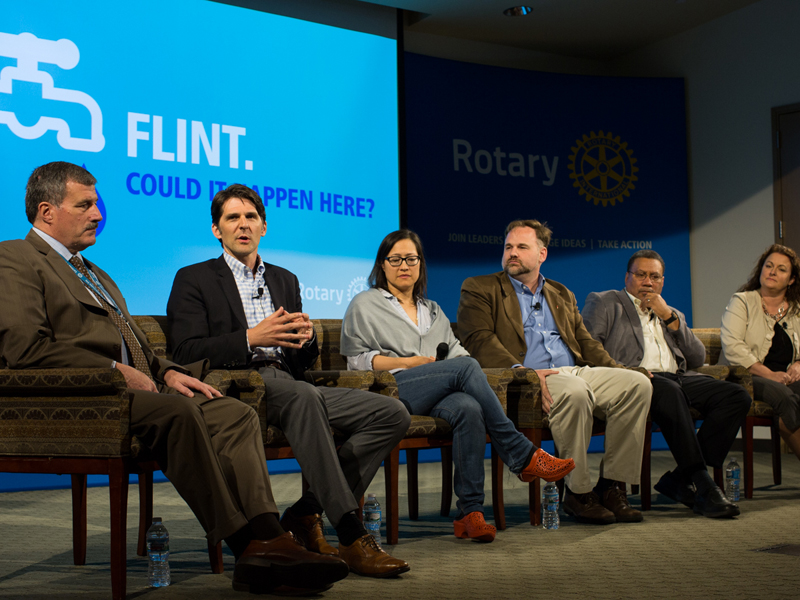 As the number of Chicago Public Schools testing positive​ for elevated levels of toxic lead continues to rise in the wake of the Flint, Michigan water crisis, Rotary yesterday hosted a panel discussion about the safety of Chicago's water supply.
The event, moderated by WBEZ reporter, Monica Eng, featured industry experts including: Dr. Lawrence Reynolds​, Flint pediatrician and member of the Governor's Water Advisory Task Force; http://www.thenonprofittimes.com/news-articles/flints-nonprofits-organizing-response-to-lead-contamination/​, CEO, United Way of Genesee County, Michigan; Joel Brammeier​, president & CEO, Alliance for the Great Lakes;Dave Stoneback​, director of the Evanston Public Works Agency; Amy Krug, president, Rotary Club of Flint.
"Children are the most vulnerable members of our society and the effects of lead can have lingering effects," said Dr. Reynolds. "Some of the issues may not show up until later down the line, long after lead exposure."
Multiple Chicago Public Schools tested for lead have shown positive test results – many linking back to outdated fixtures in the schools.
"There is no federal law that says schools have to be tested for lead and in many schools it's an outdated fixture problem," said Gaskin. "Just replacing the lead service lines is not going to provide a solution. It's a complicated and dynamic problem."
Chicago, like most Midwestern and Eastern Seaboard cities, uses lead pipes to deliver water to thousands of its residents. An estimated 80 percent of Chicago households use lead service lines. In addition, Chicago installed lead pipes until 1986 – the year they were banned nationwide.
"We live in a place with 20 percent of the world's fresh surface water, said Brammeier. "If we can't get that water safely to people, we're falling down on the job."
Chicago residents can have their homes tested for lead by calling 311 or visiting www.chicagowaterquality.org​ for more information. 
CONTACTS
Chanele Williams

United States

chanele.williams@rotary.org

8478663466