Rotary Day at White House honors 'Champions of Change'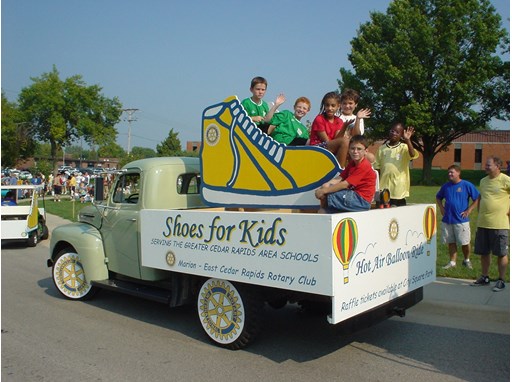 The White House on April 5 will honor 12 Rotary club members from across the United States as Champions of Change for their volunteer work to improve the lives of others during the second annual Rotary Day at the White House.

The day-long event combines two weekly White House public engagement programs – Champions of Change and the Community Leaders Briefing series -- to recognize the contributions of the humanitarian service organization Rotary International.

"Today we welcome twelve amazing Rotarians to the White House. Each of these men and women have spent countless hours helping communities both here in the U.S. and abroad. Collectively, these Rotary Club members have touched the lives of thousands of people—whether by improving health and providing health services, preventing hunger, supporting our poor communities, empowering unemployed, addicted, or homeless adults, or caring for students. The Rotarians we honor today truly exemplify the Rotary Club motto: "Service above Self" and in doing so show that the American spirit is a generous one," said Paulette Aniskoff, Deputy Assistant to the President and Director of the White House Office of Public Engagement.

"It is a great honor to see these dedicated Rotary members recognized by the U.S. White House as Champions of Change for their work to improve the lives of people around the world," said Rotary International President Sakuji Tanaka, of Japan, who will participate in the day's events with Rotary Foundation Trustee Mike McGovern and Rotary International General Secretary and CEO John Hewko. "Their commitment to humanitarian service reflects that of our worldwide membership of 1.2 million men and women, all of whom deserve to share in this recognition."

Prior to the afternoon Champions of Change program, more than 160 Rotary club members will attend a morning round of Community Leaders Briefing sessions in which Administration experts will speak on a variety of relevant topics including health, violence prevention and the environment.

Rotary is a global humanitarian organization with more than 1.2 million members in 34,000 Rotary clubs in over 200 countries and geographical areas. Rotary members are men and women who are business, professional and community leaders with a shared commitment to make the world a better place through humanitarian service. Rotary Day at the White House will be on a live video stream at White House video stream starting at 9 a.m. (EDT), April 5. To access broadcast quality video footage and still photos go to: Media Center.
CONTACTS
Kimberly Dunbar

Media Relations Specialist

United States

kimberly.dunbar@rotary.org

(847) 866-3469