U.S. Senate lauds Rotary International for its Leadership in Fighting Polio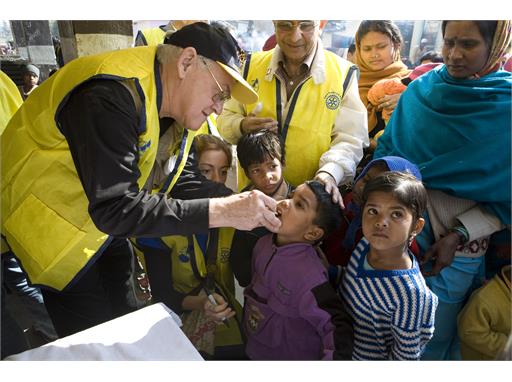 U.S. Senate lauds Rotary International for its leadership in fighting polioEVANSTON, Ill. (June 28, 2012) —
The U.S. Senate has unanimously approved a resolution commending Rotary International for its leadership in the global effort to eradicate the crippling childhood disease polio.
The resolution, introduced June 26 by Illinois Senators Dick Durbin, a Democrat, and Mark Kirk, a Republican, also encourages the federal government to continue its commitment to and funding for the Global Polio Eradication Initiative. The U.S. Government is the largest public sector supporter of the international polio campaign, having contributed $2 billion since the initiative was launched in 1988 by Rotary, the World Health Organization, UNICEF and the U.S. Centers for Disease Control and Prevention.
The measure urges "the international community of governments and non-governmental organizations to remain committed to the elimination of polio" and commends Rotary and its partners, including the Bill & Melinda Gates Foundation, "for their efforts in vaccinating children around the world against polio and for the tremendous strides made toward eradicating the disease once and for all."
Since 1988, more than two billion children worldwide have received the oral polio vaccine, and the incidence of polio has plummeted by more than 99 percent, from more than 350,000 cases a year to fewer than 700 in 2011. The wild poliovirus now remains endemic to only three countries: Afghanistan, Nigeria, and Pakistan. India, long considered an epicenter, was removed from the endemic list in February, a milestone due in part to the active participation of the county's 122,000 Rotary club members.
In addition to raising awareness and advocating within the public and private sectors, Rotary members worldwide have contributed more than $1 billion in support of polio eradication. In January, Rotary announced it had raised more than $200 million in new money for polio eradication in response to a $355 million challenge grant from the Gates Foundation, which then added $50 million more to the total in recognition of Rotary's commitment.
"Although polio was eradicated in the United States more than 30 years ago, there are still men, women and children in a few corners of the globe who are stricken with this preventable virus because they lack access to the vaccine," said Sen. Durbin. "(Rotary's) work is literally saving lives. We are closer than ever to ending the scourge of polio and I commend the work of the Rotary and many others in advancing that goal."
For more information on polio eradication, visit
www.rotary.org/endpolio
. For images accompanying this story, visit
www.rotary.org/mediacenter
.
CONTACTS
Kimberly Dunbar

Media Relations Specialist

United States

kimberly.dunbar@rotary.org

(847) 866-3469